Opening for the season May 5, full time all summer, limited hours/days Labor Day to Christmas. Closed January-April.
We try to answer all web questions as quickly as possible. Some of your inquiries have been going to our junk folder, to avoid this, please send all questions directly to our email address
joneslobster@yahoo.com

in the subject line, put "web question"
Thank you

Contact Us


Our Main Store
179 Sunshine Road
Deer Isle, ME 04627
207/348-6768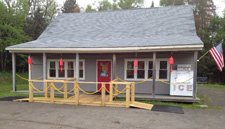 Second Store Front
796 Main Rd (route 1A)
Holden, ME 04429
207/843-6144